THE MEMBERS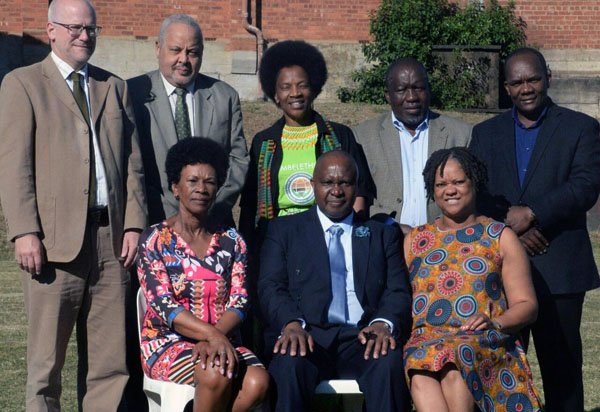 Mr Glen Robbins, Professor R.W. Green Thompson, Dr L.N. Bhengu,
Mr Mzimkulu Msiwa,

Mr James Nxumalo
Professor N. Gawe,
Prof Bonke Dumisa

,

Dr. MCN Phewa and Mr Frikkie Brooks
Chairperson of the Commission: Prof Bonke Dumisa


Area of Expertise

Legal; Management; Business; Economics.

Experience

Advocate of the High Courts of South Africa and Lesotho

Arbitrator and Mediation Specialist

A regular Economic Analyst on various mass media platforms, including TV, radio and print

Former Professor of Management, University of KwaZulu-Natal & University of Durban-Westville

Previous CEO of Durban Chamber of Commerce and Industries

Previous Economic Advisor to the Premier of KwaZulu-Natal

Former member of the Department of Trade and Industries' Consumer Affairs Committee.

Former Council Member of the Council for Medical Schemes

Former member of the HPCSA's Professional Board for Radiography and Clinical Technology

Former member of the KwaZulu-Natal Rental Housing Tribunal

Former member of the University Council of the University of Zululand

Current Board Memberships:

Chairman – Dumisa Investments (Pty) Ltd

Tribunal Member, former Deputy Chairperson and Acting Executive chairperson of the National Consumer Tribunal (NCT)

Board Director of the KwaZulu-Natal Liquor Authority (KZNLA); and its Committee Chairperson for Board Adjudications

Part-time Commissioner of the Broadcasting Complaints Commission of South Africa (BCCSA)

Part-time Adjudicator with the Community Schemes Ombuds Services (CSOS)

Highest Tertiary Qualification:

Doctor of Business Administration, UDW (UKZN)

Master of Laws (UKZN), Master of Science (University of London), and Master of Business Administration (Bentley University)

Deputy Chairperson: Dr. MCN Phewa

Area of Expertise
Education; Community Development; Project Management.

Experience

- Teaching and Training, Management and Research in the field of Education;

- National Manager: Heineman Educator Empowerment Team;

- Mainstreaming of indigenous knowledge systems and HIV/AIDS into academic development programmes;

- Member of various Education focused Councils / Associations;

- Member of South African Association of Monitoring and Evaluation (SAMEA);

- Member of various Community focused organisations;

- Programme Manager: Assessment (Unisa);

- Deputy Director: Unisa KZN Region; and

- Member of Australasian Evaluation Society (AES)

Highest Tertiary Qualification
- EdD in Educational Leadership, University of Nottingham.
COMMISSIONERS
Mr Glen Robbins

Area of Expertise

Development Studies; Regional and Local Economic Development with a focus on regional and city economic development strategies, public finance, infrastructure planning, financing, trade and industrial policy.

Experience


- Headed up the Economic Development and City Enterprises functions in eThekwini Municipality;

- Urban and Regional Economic Development Research Projects in South Africa and internationally;

- Research Projects in the field of Trade and Industrial Development; and

- Co-produced a number of independent and government sponsored reports on various dimensions of the KZN economy.

- Former Honorary Research Fellow at UKZN School of Built Environment & Development Studies.

- Member of the Statistics Council of Statistics South Africa

- Expert consultant to multi-lateral United Nations system organisations (incl. UNCTAD, ILO, World Bank)

- Honorary Research Fellow, Urban Futures Centre, Durban University of Technology

- Research Associate, PRISM, School of Economics, University of Cape Town

- Provincial Planning Commission representative on the eThekwini City Planning Commission

Highest Tertiary Qualification
M Phil in Development Studies, University of Sussex.

Mr Mzimkulu Msiwa

Area of Expertise
Engineering, Water Management, Business Management.

Experience
Chief Executive of Umgeni Water;
Programme Management and Support at the Independent Development Trust; and
City Engineer ( Nelson Mandela Bay Municipality).

Highest Tertiary Qualification
Master in Business Leadership.

Dr L.N. Bhengu

Area of Expertise
Development; poverty reduction, social facilitation; Social policy analysis; Public health law (environmental law, international law, ethics), Nutrition, Governance and administration, Legislation & Planning, Adult Education, Research, Human Rights; Motivational speaker and leadership coaching; Project management; Advocacy and social mobilisation.

Experience
Clinical Dietitian: Madadeni Hospital;
Manager: Nutrition Section: Nutrition Policy Development (Public Service); and
NGO: Managing Nutrition Unit and Programmes.

Founder and Director of Consulting Business (experience following areas)
Rural development;Women micro enterprise mentorship;
Personal & Organizational Transformation;
Executive coaching & Ethical leadership training;
Human Rights Advocacy;
Poverty Reduction;
Public policy and programme design, implementation and evaluation: Examples - EPWP (DOSD and DBSA); Nutrition programmes (DOH and UNICEF); National DOA (Food security);
Micro-lending and contribution towards development of APEX and SAMAF Fund (DTI);
Community Based Planning and Development: Khanya Institute (Mangaung);
Part-time lecturing;
Consultant / Advisor: Minister of Social Development (Min. Z. Skhweyiya);
Member of Nutrition Committee of Ten: Minister of Health (Min. N Dlamini- Zuma); and
Presented papers at international conferences: Nutrition, Public Works, Development, Empowerment through Education etc.

Board Membership

Former
National Agricultural Marketing Council (NAMC);Health Professional Council of SA;
Stats SA;
KZN Tender Board;
Maize Trust (Deputy Chair); and
UNISA Trustee.


Current
KZN Planning Commissioner;
Development Bank of Southern Africa; and
Chair: AIDS Foundations of South Africa;
Civil Society Achievements
Kellogg International Leadership Fellow;
African Leadership Initiative (ALI) Fellow (Aspen Global Leadership Programme);
Finalist SABC 2 / SC Woman of the Year (2007);
Commissioner Poverty Hearings (Voluntarily co-ordinated Poverty Hearings in KZN);
Founder and Former Chair: Community Radio Station;
Member of ESSA (Evangelical Seminary Of Southern Africa ) Council;
Author (African Midwife: Change Beyond Form);
Public speaker & Preacher; and
Roussel Prize: Best student of the year (MEDUNSA).

Highest Tertiary Qualification
PhD (Public Administration: Poverty and Good Governance), UDW-UKZN.

Professor N. Gawe

Area of Expertise

Geography and change management

Experience

- Served asa acting Vice Chancellor and Deputy Vice Chancellor at the Durban University of Technology.

- Professor and Head of Department at UniZulu;

- Manager: Tertiary Linkages Project at UNCF;

- Served on the Joint Education Trust Board;

- Training and evaluation of co-operatives through IDT;

Highest Tertiary Qualification

D. Ed. (University of Zululand)

Professor R.W. Green Thompson

Area of expertise:

Experience/Past positions held:

* Special Advisor to the Minister of Health

* Head of Department of Health, KwaZulu-Natal

* Professor of Obstetrics & Gynaecology(Medical School, University of Natal now Nelson R. Mandela School of Medicine, University of KwaZulu-Natal)

Highest Tertiary Qualification:

M.B.Ch.B (Natal); F.R.C.O.G. (London, UK); F.C.O.G. (SA).

Mr James Nxumalo


Area of Expertise:

Governance and Administration

Community Development

Experience:

Former Mayor of eThekwini Metro

Headed Non-Government Organisations focused on Community Development

Highest Tertiary Qualification:

Honours Degree in Public Administration

Mr Frikkie Brooks

Area of expertise: Strategic and Spatial Planning as well as development facilitation

Experience:

Director of Brooks Facilitation Services focused on guiding business, civil society and/or government entities to develop clear strategies to achieve corporate or project specific goals through structured engagements aimed at developing win-win solutions

Former Acting Head of Department of Co-operative Governance and Traditional Affairs (KZN)

Former Acting Director-General of KZN Province

Former Deputy Director-General: Strategic Management in the KZN Office of the Premier

Former Head of Secretariat for the KZN Provincial Planning Commission

Highest Tertiary Qualification:

BA (Ed), University of Pretoria, 1975 - 1978,

BA (Hons), with Masters in Geography and Development Studies, University of Pretoria, 1980 - 1981,

B Ed (Hons) with Masters in Management, University of Pretoria, 1987 - 1989,