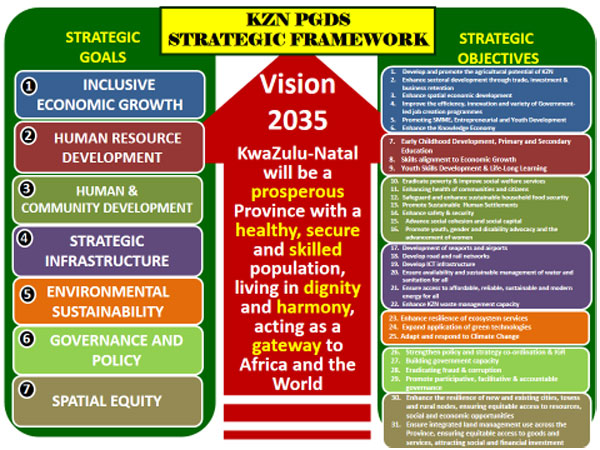 When the Province of KwaZulu-Natal adopted its first Provincial Growth and Development Strategy (PGDS) in 2011, it undertook to ensure that growth and development of the Province will at all times be guided and directed by a long term Vision and Strategy. It is for this reason that a 20 year vision was adopted in moving KZN towards 2030. With the 2011 PGDS now having been in implementation for the last 5 years and 25% of the vision period having passed, it is essential to undertake a strategic review so as to reconfirm or adjust the Vision and related strategies. At the same time it is now necessary to maintain a 20 year rolling Vision for the Province and, therefore, to extrapolate Vision 2030 to Vision 2035.
The Revised 2016 KwaZulu-Nata lProvincial Growth and Development Strategy (KZNPGDS) bolsters the Province's commitment to achieving the vision of KwaZulu-Natal (KZN) as a "Prosperous Province with a healthy, secure and skilled population, living in dignity and harmony, acting as a gateway to Africa and the world". The PGDS aims to build this gateway by growing the economy for the continued development and the continued improvement of the quality of life of all people living in the Province whilst ensuring that those currently marginalized have broader socio-economic opportunities. Whilst the Provincial Government of KZN is leading this process, its success depends on the partnership and full buy-in from labour, civil society and business. It is critical for all stakeholders to be engaged in the single-minded pursuit of shifting KZN's growth path towards shared and inclusive growth and integrated, sustainable development, aimed at improving the lives of all KZN Citizens.
The 2035 PGDS can be downloaded from the website under "Documents".